We strongly suggest getting all Christmas orders in before December 10th in order to maximize your chances of receiving packages in time. It has been our experience in previous years that while many orders placed after this date are still delivered on time the chances of packages being delayed, lost in transit or encountering other unexpected circumstances increases significantly after December 10th.
December 3rd (at midnight) is the deadline for orders that require inventory from Germany️ in order to have an expected delivery date before Christmas.
We'll do what we can; but, any custom orders placed from this point onward may not be completed and delivered in time for Christmas. Additionally, please note that the manufacturer does take an extended holiday around Christmas which may further extend the timeline for custom made items beyond what they would be during the rest of the year.
For further details about USPS and FedEx holiday schedules, see https://about.usps.com/news/national-releases/2018/pr18_083.htm and https://www.fedex.com/content/dam/fedex/us-united-states/services/Year-End-Holiday-Schedule_2018.pdf
Delivery Timeframe
Service Maps for Orders Within the USA
USPS Priority Mail Delivery Time Map (This map will provide you with expected 1, 2, or 3 day delivery areas for Priority Mail® shipments. Exceptions apply and delivery time is not guaranteed.)
FedEx Ground Delivery Timeframe Map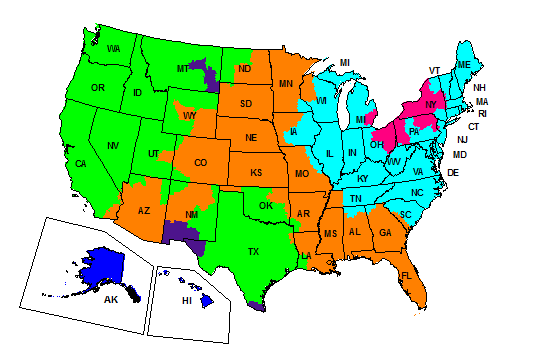 This map illustrates service schedules in business days for FedEx Ground shipments.
All items on our site are available and we make every effort to ship your merchandise within 2 business days.

However, our products are not mass produced and although we keep a sizeable inventory in North America (U.S. / Canadian) we transfer inventory weekly from our main warehouse in Germany.

In the event your item(s) is/are not in a local warehouse, not to worry. Since we receive inventory weekly you can expect any order you place will arrive at your shipping address within 2-3 weeks.

We believe it is important to communicate a specific delivery timeframe, so we promptly provide you a delivery timeframe email once we receive your order.

So please, if you need to receive your item(s) on or before a specific date please note this in the 'special instructions' section during checkout.

We ship ALL orders from North America. Most orders ship from Buffalo, New York; some Canadian orders ship from St. Catharines, Ontario, Canada.

All our products are also available for delivery to international destinations.

The base shipping rate for non-contiguous US and international deliveries will automatically calculate when you place your order and we calculate the additional shipping based on weight and destination and send you an authorization request along with delivery timeframe once we receive your order.

Please note anticipated delivery dates are subject to change. Custom orders may require up to 3-5 weeks for delivery.

Click here to go Back To Shopping